Happiness is only real when it's shared. Let's get started!
The long awaited moment is finally here, as we have added another flower in the garden. Until now, we served you folks as your Man's Friday, on the moments when you thought to surprise your loved ones at midnight or during times when your close buddy was feeling low. The flowers with chocolates brought the brakes on those blues while making an upward curve on their lips. We have always striven to bowl them over with our flowers & gifts to create moments that will last a lifetime. We are now setting on a journey to cultivate and share our garden of thoughts with all of you. We believe that this life is for loving, sharing, learning, smiling, caring, forgiving, laughing, hugging, helping, dancing, wandering and healing.Our life is never complete if you haven't let the compendium of all these moments to simmer and permeate into the life of your dear ones. As the saying goes, "Happiness is only real when it is shared.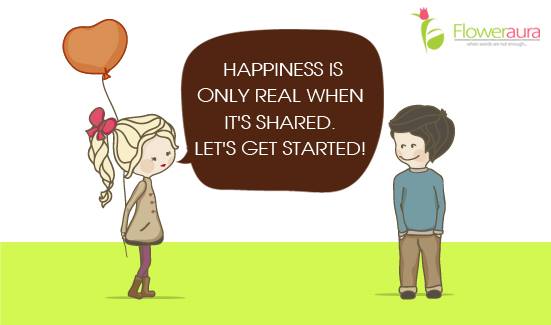 And here are 8 good reasons why you should bookmark this page and drop here often- 1) It doesn't just need a botanist to love flowers. Flower love is endemic in our lives and we love talking and sharing stories about them. 2) We are committed to filling you in with tips and advices about spicing up your relationship and keeping the spark alive. 3) The flower lovers would get timely tips as to how to take good care of their baby flowers. 4) Guys would get their pinch of romantic advices to delight their girls. 5) Tips to transform your home into magical wonderlands. 6) Lifestyle guides to celebrate important days and moments of your lives. 7) A gift says something. Here we'll help you opt for some thoughtful gifts that foster love, bonhomie, camaraderie and feeling of joy. 8) Last but not the least, we'll constantly keep you updated with all the buzz happening at FlowerAura. So just click on the bookmark button and together let's make life awesome!