12 Most Unique Rakhi Gifts For Sister To Make Her Day
"You are a nuisance, I declare You tease me so, it isn't fair! You pounce on me from everywhere And seize my hat and clutch my hair..."
Ever came across this poem by Lilian Holmes? Although, it nowhere talked about siblinghood yet, the poem holds true to define the bond that a brother and a sister share. Yes, The Love-Hate Relationship they happily choose to be in!
From pulling her ponytail to snatching the remote, from aping her manners to getting into needless squabbles, you have always come up with countless ways to trouble your sister. Haven't you?
For all the times you have ticked her off or called her names, it's time you let her know that no matter what, your sister is and would always remain your go-to person.
This Rakshabandhan, make a difference.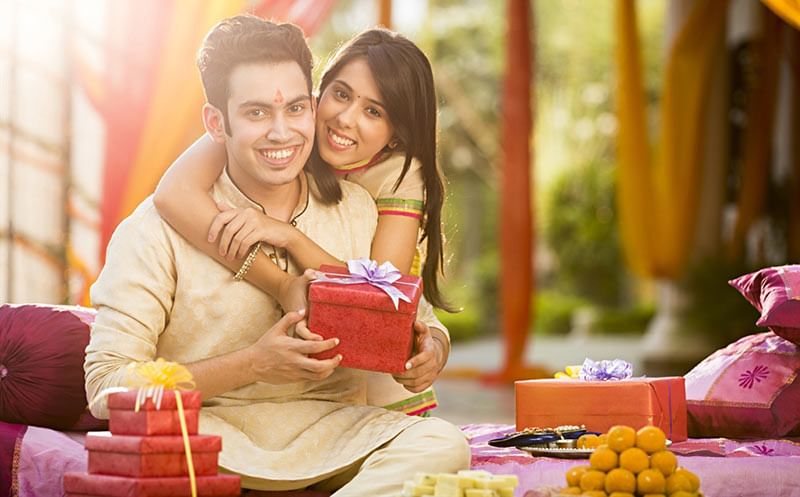 Listed below in reverse are some of the most unique Rakhi gifts for sister to add an extra dose of love, an extra pinch of affection to your Rakshabandhan gifts. Take the guide for the best things to gift your sister on raksha bandhan below. If the question on your mind is what should i gift my sister on rakhi, then scroll down a bit and find it out!
12.

Stationery

For your sister with a creative insight, a memory book, a keepsake notebook, record journals, collection albums, fun calendars, decorative wall lamp or table lamp are some of the best items to surprise her with.
11.

Engraved Plaques

It is one sure shot way to cherish the sweet bond of love for life. Get something meaningful and love filled written on the wooden engraved plaque as a special Rakhi gift for sister and let her treasure the sweet memories for a lifetime.
10.

Watch

Here's something thoughtful for her- a watch of her favourite brand. Pay attention to the shape and design that she would like the most and she is sure to flash a million dollar smile on having the best Rakhi gift.
9.

E-Vouchers

Because you are too confused on what she would love and what she would outright reject! The safest option and one of the best things to gift sister on raksha bandhan is an E-voucher to let her decide on her own what she would like to have.
8.

Fragrances

Here's another favorite pick for your sister. Perfumes! Girls love perfumes with a calming aroma. Not too strong and not too wispy. So, choose a fragrance with a floral blend.
7.

Soft Toys

Grab a soft toy, a bear or a duckling and gift her something cuddly that stays with her throughout. This would not only make her go 'Aww' in delight but would also be a wonderful bed decor for her room.
6.

Jewellery

Whether you are looking for a perfect Rakhi gift for elder sister or the younger one, jewelleries are the favourite of all. A neckpiece or a ring, give her something to up her fashion statement and she is sure to thank you a hundred times.
5.

Gadget

Who said girls don't fancy gadgets? Some of the amazing gadgets for your sister include headphones, smart watches, smart glasses, tablets, animal speakers. Make sure she gets one of these as her return Rakshabandhan gift on the day.
4.

Designer Dresses

Ever heard your sister whine "I have nothing to wear" while she has a wardrobe full of clothes. Well, give a pause to her sorrows by getting a designer dress for her. She is sure to jump in joy and love you so much more. It is one of the most creative rakhi gifts for sister.
3.

Cakes

Well, here's a twist! A cake would work as a pleasant Rakhi gift idea for your sister to thank her for being such an amazing sister and for bearing all your rage and tantrums. Cakes are meant for celebration. Then, why not celebrate a sweet bond of siblinghood with one!
2.

Flowers

Flowers work wonders, no matter what the occasion is. It's an indubitable fact that they never cease to put a smile on the face of the recipient. Make sure you choose her favourite flowers and send a scintillating bouquet as a surprise Rakhi gift for your sister.
1.

Chocolates

No words! Just chocolates! Chocolate is to girls what sunshine is to a wintery day. There's a reason why it tops the charts. It's a therapy, a fixer, a cure, a best friend. So, with no second thoughts, go for chocolates and make her day.

So this Rakshabandhan, gift her a smile, a memory she would treasure forever!

Shop the Story