9 Most Romantic Valentine's Day Gift Ideas For Boyfriend
type; if($nodetype == 'blog'){ ?> 'file', 'scope' => 'footer')); } ?>
Tight Hugs, Cute Texts, Long Replies, Holding hands, Kisses on the forehead … And that's how it started …
Isn't it unique how eagerly we want ourselves to be the most important person on this Earth to someone else? A feeling that is so beautiful and blissful that we just can't keep away from it! It's like taking a sip of eternity, and suddenly realizing the Sun, the Stars, the Sky never tasted so good. Love, indeed, is an intricately beautiful feeling!
Once you've fallen in love, there's no way you can move away from it, but get tangled within. All of a sudden, one person in the entire Universe becomes so important that you feel this is what you've ever wanted. That's when you want to celebrate every moment and create countless memories with that special someone.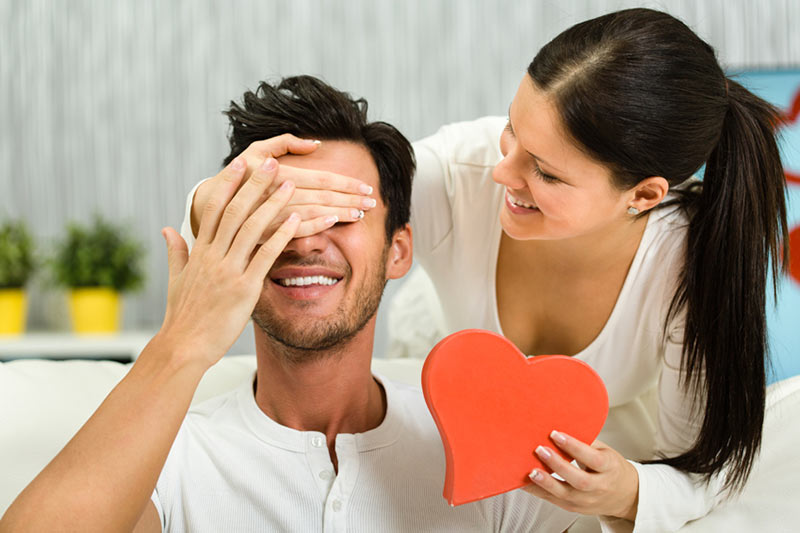 Perhaps this is why Valentine's Day is widely celebrated. One day that is, especially, dedicated to the Lovers! Although, the history of Valentine's Day has been dark, the flames of love spread tremendously. Valentine's Day is a day to celebrate love and to make your lover feel extremely special.
So, keep the flames of passion alive in your relationship with these amazing valentine gifts ideas for your boyfriend:
Just Kiss Me

This is the best Valentine's Day gift for him. As they say, absence makes the heart grow fonder. Do not let your boyfriend feel your absence with this cuddly cute present standing on a red swing. Each time he'll see this, he'll so adore your gesture.

Drunk on Love

Waited up so long, to gather up words, ever since you have been drunk on love? Well then, grab this chance to say it in style, through this charming ceramic mug with just the right quote printed on it. Tell him how much you love him by sending him this amazing Valentine's gift.

Love Jingle

Here's a naughty Valentine gift idea to add spunk to your sweetheart's present. This lip-shaped cushion accompanied with a love bell will tickle the thoughts of your boyfriend and make him miss you as much as you miss him.

Cupid Love

The Cupid has released the arrow of forever love. So, this Valentine's Day, let the cupid strike the right chords of the hearts. Send this arrow to your boyfriend and make him yours forever. This Red Colored Cupid Love Cushion will be one of the most Romantic Valentine's gifts for him ever.

Valentine Serenade

Whoever said, "Boys don't love surprises" perhaps didn't understand boys. Everyone loves surprises, especially, when received from the special ones. So, make your boyfriend feel overwhelmed with these 2 days, 4 days, and 8 days Valentine Serenade Combos.

Intimate Romance Hamper

In this season of love, have an exotic time with your lover by gifting him this intimate and attractive gift hamper. When a brown teddy with an "I Love You" heart and romantic lip-shaped dark chocolates come together, you can hear the bells ringing. Can there be a better Valentine's Day gift?

Letters of Love

Who said only girls love to receive love notes and letters? Boys equally love them too! This romantic Valentine gift is sure to make your boyfriend fall in love with you all over again. After all, sometimes, a scroll is worth a lot more.

Adorable Intimacy

The best feeling is when you look at him and he's already staring at you, right? With this absolutely cute pink teddy couple set sitting on a red cushion displaying an adorable form of intimacy explains the most wonderful feeling of love. A lovely Valentine's Day gift for him!

Sweet Surprise For Hubby

Take your married life to a whole new level with this romantic Valentine's Day gift for husband. Each sip of hot coffee in this Best Husband Mug will remind him of you and the two champagne-shaped tempting dark chocolates will add to the Valentine's Day twist. Your hubby surely deserves to own this gift.
With these ultimate Valentine's Day gift ideas for boyfriend, make this Valentine's an unforgettable one! You can also have a look at the most Romantic Valentine's Day Gift ideas for Girlfriend. So, do not wait any further, express your sentiments in the most loving and beautiful manner!