I remember, as kids, all my brothers used to line up and I, dressed in my favourite Lehenga Choli flaunting my bangles would tie Rakhi on their wrists. My mother used to chant a prayer urging me to repeat as I put the tikka on their foreheads and blessed them for a long life. The whole idea of Rakhi was ever so fascinating! It was only years after did I truly realise the value of Raksha Bandhan.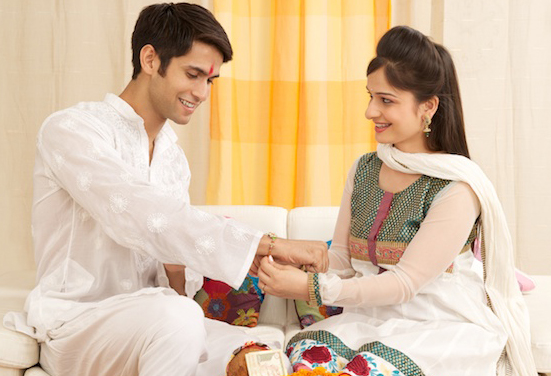 As we all matured together, each Rakhsha Bandhan became more overwhelming. I'd choke a little while giving them my blessings and they would shower me with their love in the form of gifts and money (still a bonus!)

Now that I work at FlowerAura, while going through the Rakhi messages, I once again became that excited kid who would wait for Rakhi all year long. Owing to the practicalities and the drive for a better living, most families do not get the opportunity to celebrate occasions together anymore. I am glad to be a part of an organisation that allows people to connect and send their love and blessings to each other on this beautiful festival.

We would be pleased to share some extraordinary wishes that the siblings sent to each other on Rakhi.
Messages for Brothers
Sisters, the most expressive beings when it comes to showering love on their brothers. They surely took my heart away with their words.
We are so blessed to have a brother as unconditionally loving, kind, caring, and cute as you. You've fulfilled every wish each one of us has had.
We'll be waiting for our gifts... And if you don't give then you'll be in big trouble!
Love You Brother, For The Kind Things, You Have Said And Done To Me, I Wish You Success And Happiness In Life, And promise that I'll be with You In All Times
You were always my best friend, looking out for me, making sure the path I travelled on was smooth. Even if I searched the world over, there cannot be a better brother than you.
You are the person who holds me in my bad times, you are the person who dances with me in my happiness. I can't recall even a single day when you were absent from my life.
As I send my blessings and love to you along with this Rakhi, I also wish you send me the iPhone that you promised! Love you Bhai!
Messages for Sisters
When it came to brothers, I thought they weren't expressive, but I was stumped to see their emotions flowing through their words.
We gain and lose everyday. But you can trust me on one thing. You will never lose me. I will always be there for you.
Hi angel! Thank you for the most beautiful Rakhi packed with your best wishes. Sorry I couldn't come there personally on Rakhi, but I am sending you my love and a big box of your favourite chocolates!
Hi Kiddo! Thank you for your Rakhi and the most wonderful message you sent. I am coming to see you this weekend, but till then enjoy the cake!
When I think of Rakhi the first thing comes in my mind is the fights and arguments we used to have in our childhood days. Today, I laugh thinking about it and my love towards you increases.
The pious occasion of Raksha Bandhan reminds me of the days when we were kids. We fought and made up easily. Those lovely days can't come back but will always stay in my heart.
To the best and most adorable sister in this whole world. Distance never can and never will weaken our bond, you are special and you'll always be.
So, here were some funny, some emotional Rakhi messages which I believe made you go "Awwww"