The Ultimate Christmas Fruit Cake Recipe
Christmas is round the corner! The preparations have begun. The checklist has been made - Holiday Planning, Gift cards, Christmas decorations, Crafts and Interiors, but what about the delicious Christmas Fruit Cake?
So, here's presenting the recipe of the ultimate Christmas fruit cake. This delicious Christmas cake will be the talk of your Christmas Day party. Made with fruits including cashews, cherries, raisins and soaked with rich sherry, the sponge is fluffy and fruity. This cake is simple to recreate at home and is one of our favourite bakes.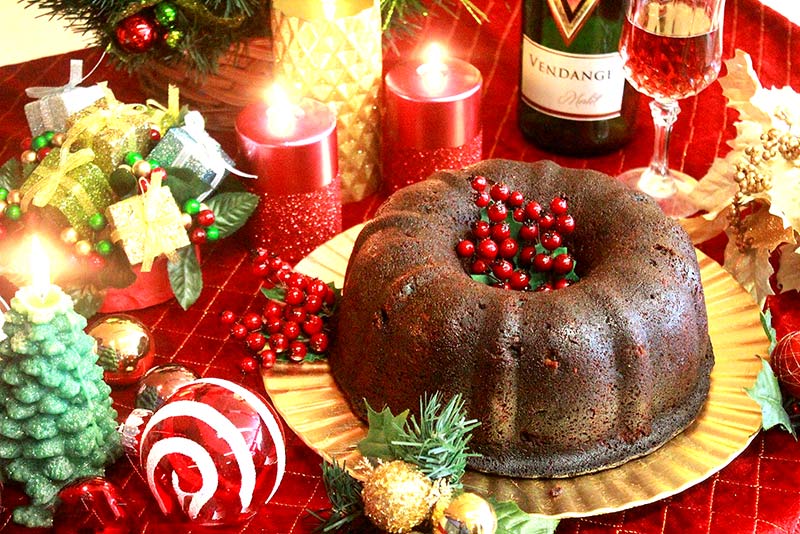 Preparation Time:

1 hour 20 Minutes
Yield:

1.5 Kg
Ingredients
For The Pre-Soaking

Mixed Fruits – 3 Cups

Dates

Almonds

Walnuts

Yellow Raisins

Black Raisins

Cashew Nuts

Tutty-Fruity

Figs

Cherries

Orange Peel

Ginger Peel

Rum/Brandy – 1.5 Cups

For Caramel Preparation

Water – 1 tbsp

Warm water – 1/2 cup + 2 tbsp

Sugar – 1/2 cup

For Spice Powder

Cardamom – 2

Cloves – 2

Nutmeg – a small piece

Cinnamon – a small piece

For Cake Preparation

Baking powder – 1¼ tsp

Baking soda – ½ tsp

Plain flour – 2 cups

Sugar – 1 cup+ 2 tbsp

Eggs – 4 (at room temperature)

Unsalted Butter – 200g (at room temperature)

Vanilla extract – 1 tsp

Apricot Jam – 1 Tbsp
Preparation of Ultimate Christmas Fruit Cake
Soaking of Fruits
The pre-soaked ingredients need to be ready one week prior to the making of fruit cake.
Wash the dry fruits and soak them. Leave them to dry in Sunlight for a day.
Chop dried fruits and nuts and fill them in a glass jar. It is better if they are soaked in the jar for at least a week.
Make sure to shake the jar of soaked fruits once in a while.
If you are running short on time, then follow this procedure:
Take a serving bowl and put the fruits and nuts in it.
Mix them well with Rum/brandy and cover them with a cloth.
Leave them to soak for a minimum of 12 hours.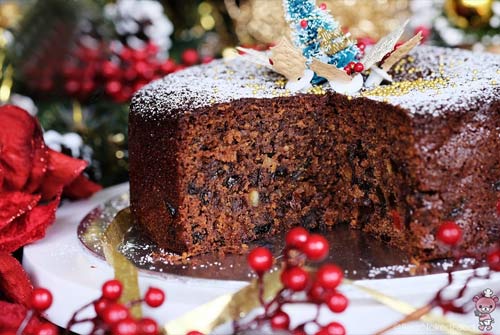 Caramel Preparation
Combine ½ cup sugar and 1 tbsp water in a sauce pan. Heat it until the sugar melts and becomes dark brown in color. Add 1/2 cup warm water to it and let it boil for 3-4 minutes. Remove from fire and let it cool completely.
Instead of Alcohol, you can also use this mixture (Alcohol Free Version)
Soak 3 cups of fruits in 1/2 cup of fresh orange juice. Leave it overnight at room temperature.
Preparation of Cake
Preheat the oven at 180 C for approximately 10 to 15 minutes.
Drain the soaked fruits and keep aside. Retain 4 tbsp from the drained liquor. Toss the drained fruits in 2 table spoons of flour to prevent the fruits from sinking to the bottom of the cake.
Sift the flour along with baking powder and baking soda in a bowl.
Take a large mixing bowl and beat egg yolks in it. Add softened butter to it and beat until it forms a smooth paste. Add powdered sugar to it, gradually and beat after each addition.
When the mixture becomes smooth, add vanilla essence, cooled caramel, spice powder and jam to it. Beat again. Add the sifted flour and drained liquor to the mixture in 2 batches. Beat after each addition.
Now, beat egg whites till soft peaks form. Make sure that not even a single drop of water is allowed to the egg whites.
Fold the fluffy egg white and soaked fruits into the batter very gently. Make it two three parts and fold accordingly.
Now, grease the baking dish and line with baking paper. Pour the prepared batter into the tins.
Bake the cake for 40-45 minutes or until the tooth pick inserted comes out clean. The baking time may vary depending on the oven.
Cool the cake for 30 minutes in the tin, and then remove it to a wire rack to finish cooling.
Your Ultimate Christmas Fruit Cake is Ready!
You can also get this delicious cake delivered at your doorstep. Simply login to the website and order cake online for Christmas.