Heartfelt Fathers Day Messages
Let us be honest today.
He is supposedly the strongest individual of the family! It is him, whom you can rely on for any and every need. Who comes home every night tired from work, listening to everyone and yet smiles peacefully seeing you. Who continues to love you even when he is not able to express it with hugs, kisses and tears - Your Father. So, this Father's Day, express your gratitude and appreciate your father's efforts .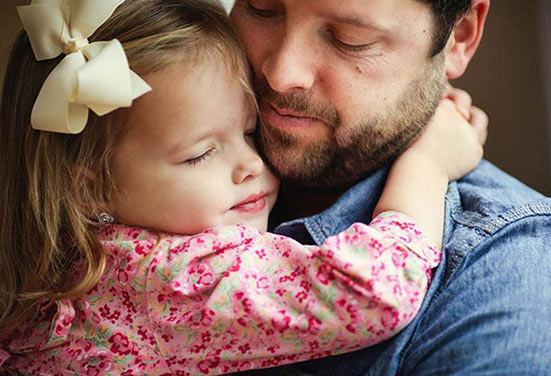 So, as the world celebrates Fathers' day on the third Sunday of June, you should too, converse your Father, what he means to you.
Messages From Daughters
If you are a darling daughter reading this, you are definitely the princess for him. He has made sure that whatever you wish has been accomplished.
You have been a great hero in my life and the greatest strength. Today, because of you, I'm being blessed in so many ways. From the bottom of my heart, I want to say, 'Thank You Dad for everything. I Love You, Dad.
Dear Papa, Yes, I am married now. But I want you to know that you have a very special place in my heart, which no one else can fill because you mean so much to me, and you know you always will!
Dad, the bites I have eaten from your plate, the hugs which were the best stress busters, the trust on you! Happy Father's Day, Dad.
"Thank you for believing in me and guiding me throughout. You gave the vision to my dreams and made me who I am today. I Love You, Dad.
Dad, you never made me feel less than anyone. You made me strong and courageous enough to face the world with utmost pride. Happy Father's Day! Stay sweet, loving, and genuine as you have always been.
Dear Daddy, I will always look up to you as a man of principle and values. I will never cease to trail your footsteps and make the right decisions as what you have taught me.
Take a look at your closet, those dresses, that tiara, those accessories, the books all bespeak his love. Take time to rejoicethe special moments of a Father-Daughter Relationship with these images that will make you stroll in the memory lane.
Messages From Sons
While so much has been said about the daughter's love for their father, the fact is that they are equally attached to all their kids. You can vouch for it if you are a son reading this.
Those stern glances, the tear that trickled down when I left for another city, the calls which always had more concern than ever. For the best and most adorable father of the world, I Love You.
Hey Dad, remember when I was little, whenever I called you "Daddy" it meant that I wanted something? This time, let me ask you again for something, would you please have a great Father's Day, Daddy?
You gave me the greatest gift, anyone could give another person. You believed in me. You explained me the truth about life and taught me how to deal with it. Thank you, Dad
From my first step to my first major decisions, you held my hand strongly and never let me fall. You were there for me always, right by my side. Thank you, Dad.
Dear Dad, Happy Father's Day! Although I may not say this often, but I'm so thankful to have you. You have always been a motivational factor to me, and I have always looked up to you as the ideal man.
You are the best. I love you so much. I don't think that even if I searched the world for years and years, I would find someone who is as caring, as thoughtful, and as diligent as you. Happy Father's Day Dad!
There is so much inside you for your loving Dad. And that, there isa lot you want to converse with him. Go ahead, and speak out your heart!